SIGN OUR NEW PETITION


NEW DOCUMENTARY!
LIES ABOUT TONY...


HELP US SAVE OUR TIGER!!!! Animal activists from out of state are trying to send our hand-raised, never in the wild, family member to a wild game preserve somewhere.

They claim he is endangered here, BUT HE WILL BE THERE!!! Thousands are spent on Tony every month at the Tiger truck Stop - The non-profit shelters cannot afford to give tony the quality of food and care he receives now.

We have met every regulation and request for the tiger's safety. In fact, more tiger cubs have been born at our truck stop than in any zoo in the US! He is fed well, and has our full attention.

Will he be just one of dozens of tigers fending for themselves at the shelter he is suposed to go to???? STOP THIS!!

Our tiger, Tony, has never been away from the truck stop or the loved ones who have raised him since he was a baby. Sign the petition and write the truck stop to save our big cat!!!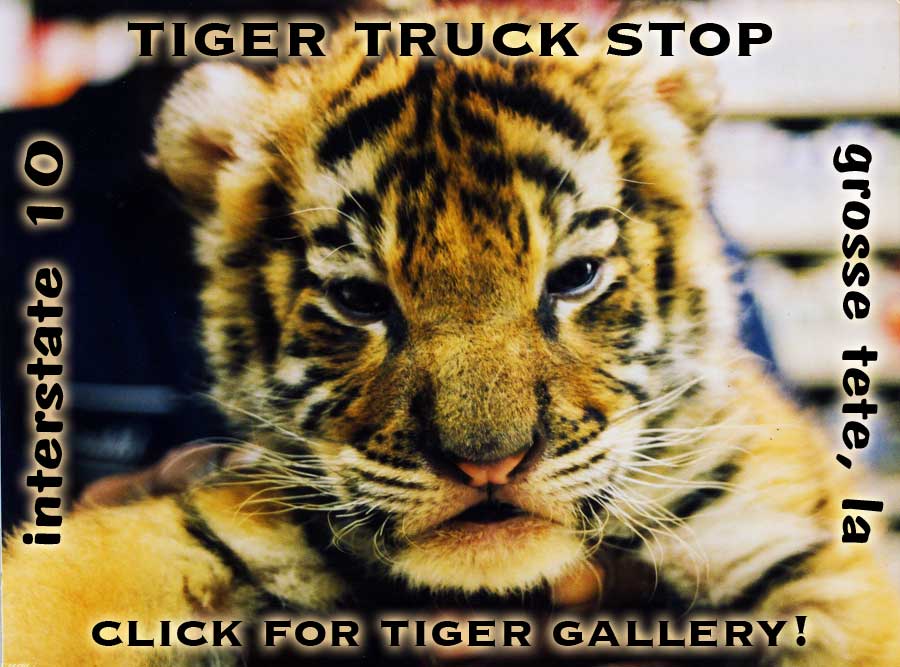 # 2: 12:50 pm PST, Nov 26, Ineke Jansen, Netherlands
Animals know true love! They have feelings just like us, maybe even more! Don't do things to them which you wouldn't experience yourself! By killing the animals, you kill the earth... by killing the earth, you kill yourself!
SIGN OUR NEW PETITION (begun 10-24-2013)
# 9: 4:35 pm PST, Nov 26, Toni Mccauley, New Jersey
It is more than cruel to take this beautiful creature away from people that have raised him and loved him where he is safe. Why put him in the hands of possible danger when he being properly cared for by people that he has known all of his life. Let him be!!
SIGN OUR NEW PETITION (begun 10-24-2013)

# 41: 4:22 pm PST, Nov 27, Steve Dale, Australia

ANOTHER DUMB DECISION BY IDIOTS WHO DO EVERYTHING TO DESTROY ANIMALS HAPPINESS,LEAVE THIS ANIMAL WHERE IT IS LOVED AND CARED FOR AS ITS NOT HURTING ANYONE AND THESE PEOPLE ARE CARING FOR AND DOING RIGHT BY THE ANIMAL AND THE PEOPLE AROUND,STOP THIS HEARTLESS AND INHUMAN ACTION OF TRYING TO REMOVE THE ANIMAL,ITS TIME INHUMANS GREW A HEART AND WOKE UP TO THERE DISASTROUS AND INHUMANE DECISIONS.
SIGN OUR NEW PETITION (begun 10-24-2013)
# 35: 8:54 am PST, Nov 27, Sonja Nielsen, Denmark
Usually wild animals belong in the wild, were they can live according to their needs and above all, be free. However, I do realize that in some cases, an animal that has been born and raised in captivity, can in fact be better of staying with those who have cared for it, throughout its intire life. If Tony is cared for according to his needs, and are given love and care, I cannot se why he shouldn't stay where he is..
SIGN OUR NEW PETITION (begun 10-24-2013)
# 10: 4:59 pm PST, Nov 26, Ashley Ross, Texas
No doubt animals in the wild are better off being free and where they would prefer to be, but I don't think people see the difference between animals born into the wild and those that were raised completely by hand. It would be more cruel to thrust the poor guy into an unknown environment without his loved ones or any sense of what to do. Perhaps if they slowly integrated his lifestyle into a wild one it would not be as sad or risky, but all the same, he is better off with his family. I don't think a person who has not ever been in contact with the animal has a right to say otherwise - no, scratch that. They certainly have the right to say so, but I don't think that an opinion of a party not involved or even associated with the tiger should be able to decide the outcome.
SIGN OUR NEW PETITION (begun 10-24-2013)